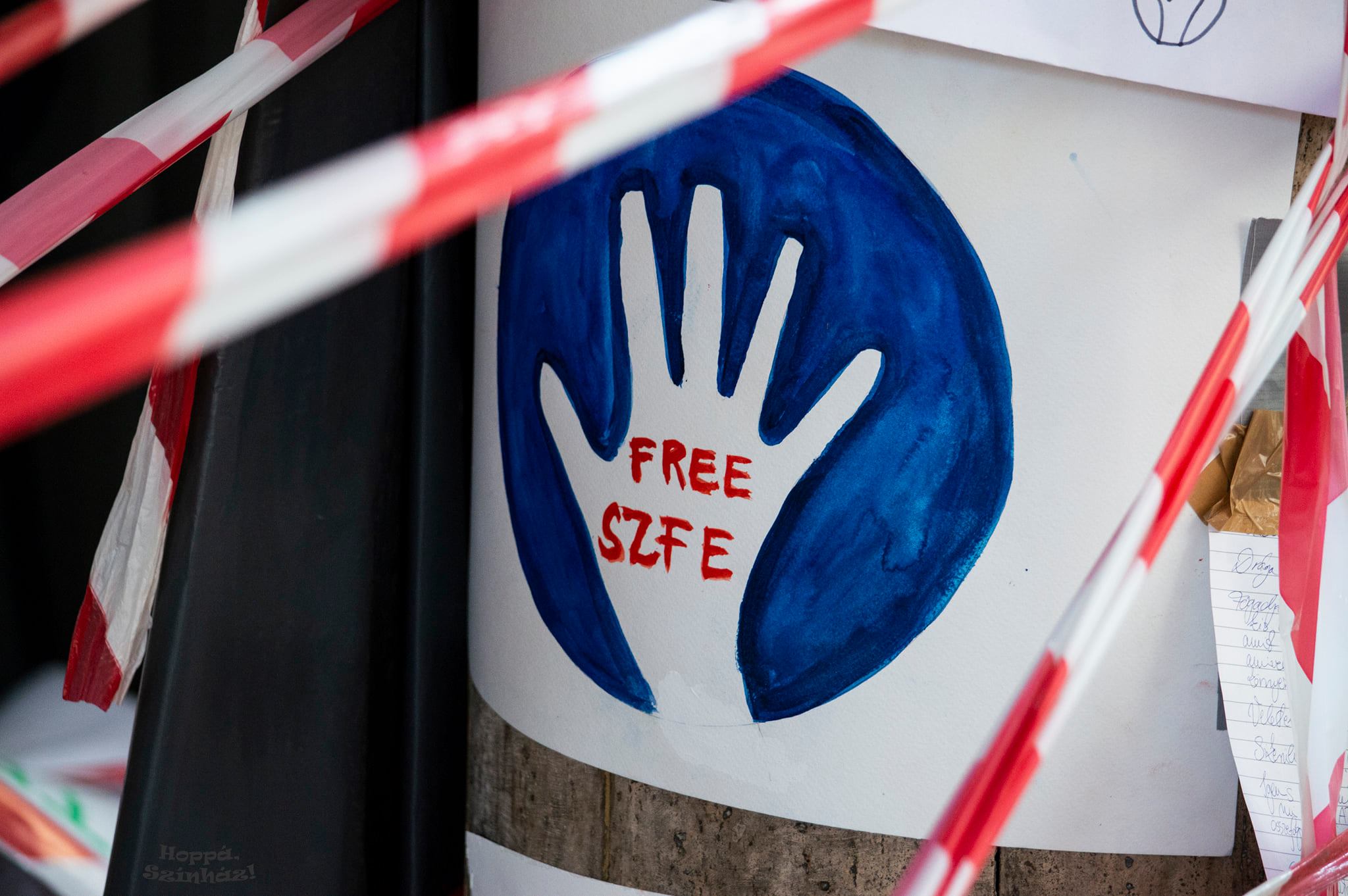 Many partner institutions of the European Alliance of Academies have expressed their solidarity with the SZFE University of Theatre and Film Arts in Budapest, Hungary. They are extremely concerned about the measures taken by Hungarian policymakers which are hindering the free development of the arts and artistic expression.

We fully support the DECLARATION OF SOLIDARITY with the students and lecturers of the SZFE University of Theatre and Film Arts in Budapest, published by Saxon Academy of Arts.

Since the beginning of September, students and faculty of the SZFE University of Theatre and Film Arts in Budapest, Hungary, have been protesting against the violation of their autonomy. The takeover of the university by the government-affiliated Foundation for Theatre and Film Arts has already prompted the university management and many distinguished members of the teaching staff to resign.
On 23 October 2020, the anniversary of the 1956 Hungarian Revolution, around 10,000 people demonstrated under the slogan "Art is free" against the foundation's new board of trustees now running SZFE. The Foundation's chair Attila Vidnyánszky, who is also the director of Budapest National Theatre, has stated his intention to drive out "elitism" at SZFE, an institution which is 115 years old, and focus teaching in future on "the nation, the homeland and Christianity". Colonel Gábor Szarka, a former chief of staff at the Ministry of Defence who has now been appointed chancellor of SZFE, has switched off the internet in two buildings on its campus and cut the data cables. In a television interview, he boasted about his personal crackdown and said he would do whatever it took to end "this manner of internal anarchy".
The Saxon Academy of Arts is highly alarmed at the abolition of the democratically elected organs of SZFE. It emphasizes that freedom in art, research and higher education is non-negotiable and is a cornerstone of Europe's conceptual self-image. By contrast, a concept of art and education geared towards nationalism definitely belongs on the scrap heap of the disastrous history of the twentieth century.
We hereby declare our solidarity with the students of the SZFE Budapest University of Theatre and Film Arts, the members of faculty who have resigned, as well as the rectorate and the senate, who have also stepped down, and call for the full restoration of the university's autonomy.
We expect the governments of all EU Member States to put pressure on the Hungarian government to return to the governing bodies of SZFE their full powers.
The Saxon Academy of Arts declares its solidarity with all artists and scholars who champion the freedom of the arts and education.
Европейски алианс на академиите Europski savez akademija Evropská aliance akademií Europæisk sammenslutning af akademier Europäische Allianz der Akademien Europese alliantie van de academiën European Alliance of Academies Euroopa akadeemiate ühendus Akatemioiden eurooppalainen liittoutuma Alliance européenne des academies Ευρωπαϊκή σύμπραξη των Ακαδημιών Akadémiák Európai Szövetsége Comhghuallaíocht Eorpach na nAcadamh Alleanza europea delle Accademie Eiropas Akadēmiju alianse Europos akademijų aljansas Allianza Ewropea tal-Akkademji Europejski sojusz akademii Aliança Europeia das Academias Alianța Europeană a Academiilor Európska aliancia akadémií Zveza evropskih akademij Alianza Europea de Academias Europeiska akademiska alliansen