Conference
At the invitation from the Akademie der Künste, around 70 representatives of European art academies and cultural institutions gathered for a hybrid conference to initiate a "European Alliance of Academies", from 8 to 10 Oct 2020.

The institutions involved come from almost every country in the European Union as well as Norway and Great Britain – a strong signal that demonstrates the need for a transnational alliance based on solidarity, especially in the light of the Covid-19 pandemic and its political consequences, national delineations and right-wing populist isolationist fantasies.
Academy President Jeanine Meerapfel opened the conference on Thursday. This was followed by presentations of writers Robert Menasse and A. L. Kennedy and publicist Basil Kerski.

The evening was accompanied by a music performance of the AoA Impro-Group with Floros Floridis (Clarinets), Almut Kühne (Singer), Dag Magnus Narvesen (Drums), Antonio Borghini (Acoustic Bass) and Elena Kakaliagou (French Horn).

The internal panels on Friday began with a greeting by Minister of State Prof. Monika Grütters, followed by perspective views of Europe by art historian Bénédicte Savoy and contemporary historian Philipp Ther.
On 10 Oct, the "European Alliance of Academies" presented a joint manifesto in Berlin, setting out the mission of securing the European Union as a cultural project for the future. New forms of cooperation are to be established that guarantee mutual support whenever there is a threat of political restrictions or the freedom of art is at risk.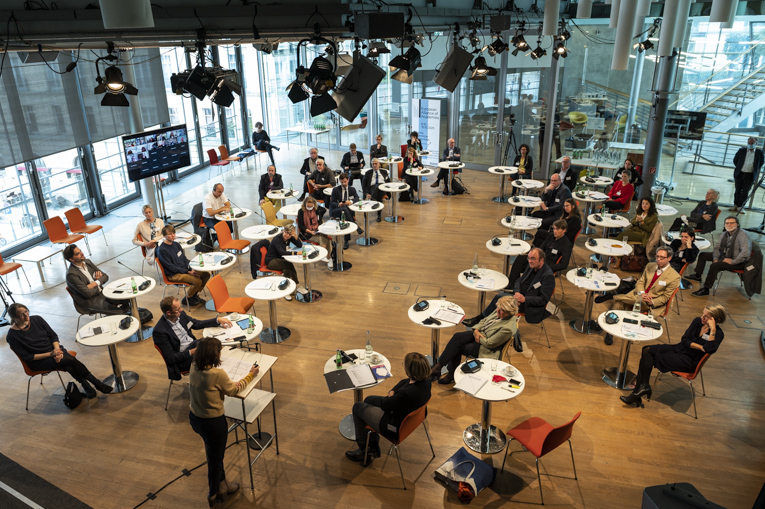 Akademie der Kuenste, Pariser Platz. Konferenz: Europaeische Allianz der Akademien. 08.–10.10.2020 Copyright: Marcus Lieberenz/bildbuehne.de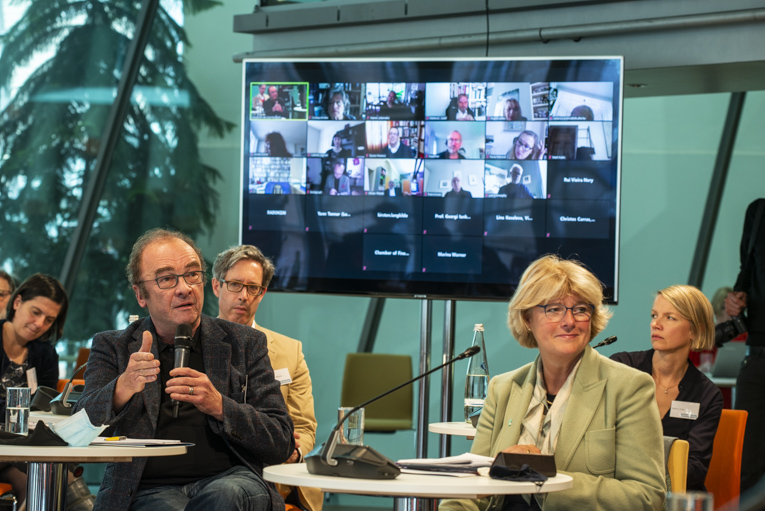 Akademie der Kuenste, Pariser Platz. Konferenz: Europaeische Allianz der Akademien. 08.–10.10.2020 Copyright: Marcus Lieberenz/bildbuehne.de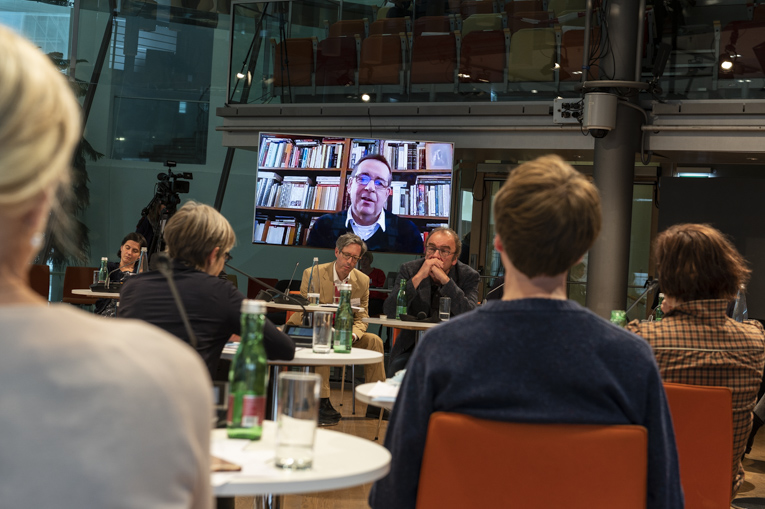 Akademie der Kuenste, Pariser Platz. Konferenz: Europaeische Allianz der Akademien. 08.–10.10.2020 Copyright: Marcus Lieberenz/bildbuehne.de
Европейски алианс на академиите Europski savez akademija Evropská aliance akademií Europæisk sammenslutning af akademier Europäische Allianz der Akademien Europese alliantie van de academiën European Alliance of Academies Euroopa akadeemiate ühendus Akatemioiden eurooppalainen liittoutuma Alliance européenne des academies Ευρωπαϊκή σύμπραξη των Ακαδημιών Akadémiák Európai Szövetsége Comhghuallaíocht Eorpach na nAcadamh Alleanza europea delle Accademie Eiropas Akadēmiju alianse Europos akademijų aljansas Allianza Ewropea tal-Akkademji Europejski sojusz akademii Aliança Europeia das Academias Alianța Europeană a Academiilor Európska aliancia akadémií Zveza evropskih akademij Alianza Europea de Academias Europeiska akademiska alliansen